History
1930 miliqtuni, nutaamik atigiqaliqhutik taimaa haliqpiaqhugit tamainnut Inuinnait nunallaangit. Pilihaaqhimajuq uvanngat Klengenberg ilagiiktunut, nuuttutik Inuinnait aviktuqhimajumi uvani 1916 mi angmaqtiqhuni niuvirvingmi nunangani haniani tadja atiqaliqtuq Qurluqtuq. Christian Klengenberg Denmark-minngaaqhimajuq, nuliangalu Kemnek Inupiaq Alaskamit. Aiqqukkittumik naitpallaaramik atigit Inuinnainut qaajurnaqpallaaramik, Kemnek miqhuqhimmaaqhuni takitqijaanik atigit Alaskamiut aimavinga inmi ilanganilu, una ilitquhiutauliqhuni. Una arnap tukiliutingit haffumani Inupiat atigi ilagivluniuk takijaaqtumik atigi haffumani tuktu amingit, taimaa, Inuinnaunngittuni, tamaat pulahimajangit timingit. Hamna ilitquhingit atuqhugit ivitaalgit kikkariktumik tiliugalik taijauvagaat Ualinirmiut Ikhia qupait, taimaa nauvallialiqhutik uvani MacKenzie Delta Ualinirmiut uvani 1880 mi. Una atigip ataani aingillu pinniqhaqhimajut qalvit puhitaanit, Inuinnait atuqhimanngittangit, kihimi tiguaqhugit pinnitqijaugami ihuaqhunilu.
In the 1930s, a new parka fashion swept across the Inuinnait territory. It began with the Klengenberg family, who moved into the Inuinnait region in 1916 to open a trading post in the area near the current settlement of Kugluktuk. Christian Klengenberg originally hailed from Denmark, and his wife Kenmek was an Inupiaq from Alaska. Finding the short sleeved and short waisted parkas of the Inuinnait too cold, Kenmek continued to sew the longer parkas of her Alaskan homeland for herself and her family, and the style gradually took hold. The woman's version of the Inupiat parka consisted of a long coat of caribou fur, which, unlike the Inuinnait version, adequately covered the body. The parka style used a colourful band of geometric designs called Delta Trim, which began to be created in the MacKenzie Delta during the 1880s . The parka's bottom and sleeves were typically decorated with wolverine fur, which was previously unworn by Inuinnait, but was quickly adopted into local concepts of prestige and beauty.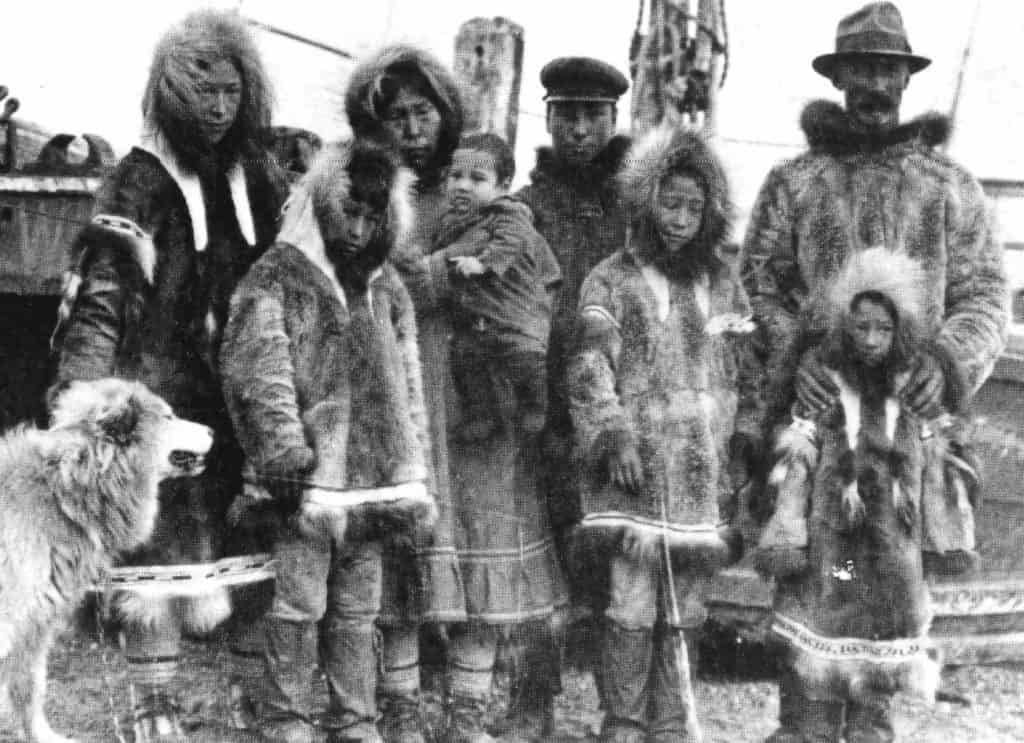 Una Niuviqti Christian Klengenberg ilaitalu (1916). Diamond Jenness/CMC/36912)
The Trader Christian Klengenberg and his family (1916). Diamond Jenness/CMC/36912)
Haniraani atauttimiqaak, aallat atigi ilitquhia uvanngat Uataangat ilittuqpalliajuq. Tadjutilik 'Mother Hubbard,' uuminngaluuniit Arnannaak una atigi arnainnat atuqpagaat—ajurnanngittuq, qitirmit takinia kalikuqaqhuni angutit aturluaqpagaat-ilagijangillu hiitqurmit takinia hilataa kalikuinnaq iluanittauq aliqtikharmik ilulik. Hamna Hamna Arnannaak Inuinnainmunngauvlutik uvanngat Alaska unalu Ualinirmiut ukiunganit 1920 mit, ilittuqhimalraaqtut Alaskanut ukunanngat Angaadjuktunut minihitat, ilitturnaqhunilu hivunngani himmautauvlunilu ukunanngat Hawaiian Qikiqtangit, China unalu Alaska. Una atigi ilitquhiqaqhunilu qaumajunik ivitaalgit kalikungit, ilittuqhaijangit uvunga Hawaii minihitanit, kinguanilu aturlualiqhugit qaajurnaqpiaqtumi hila hinikhautigijangit-puhitakhautigivlugillu nahaa minihitat nuuhimavlutik Alaskamut. 
Around the same time, another parka style from the West took hold. Called a 'Mother Hubbard,' this parka was worn only by women–a plain, waist length fabric shell being the preference of men-and consisted of a knee length outer cotton shell over top of a an inner parka made from duffel fabric. While the Mother Hubbard came to Inuinnait via Alaskan and the Mackenzie Delta in the 1920s, it was originally introduced to Alaska by Christian missionaries, and can be traced back to earlier trade between the Hawaiian Islands, China and Alaska. The parka is characterized by a brightly coloured cotton fabric known as calico, also ntroduced to Hawaii by missionaries, and later adapted for cold weather with a fur-trimmed hood when missions moved to Alaska.
Tikinnamik Kiluhikturmut uvani 1916 mi, Klengenberg-kkut niuvirviqaliqhutik haniani Cape Kendall tununnganit Qurluqturmit. Una niuvirvik nuuqattaqhimajuq qaffiiqhuni Nuvungmunngautinnatik (Nuvuk), haniani Qikiqtanajuk hivuraani uataani Kiilliniq hinaa uvani 1919 mi.
Upon their arrival to the Coronation Gulf in 1916, the Klengenbergs established a temporary trading post near Cape Kendall to the north of Kugluktuk. This post was moved several times before settling on Rymer Point (Nuvuk), near Read Island on the southwest shore of Victoria Island in 1919.
Aahiit nanminiqaqtut tikitqaqtut iluani nunangani tamarmik Qulvahikturmiut Niuviqtit taidjutilik Northern Traders Ltd. unalu Hudson's Bay Company Kapanit niuvirviit havaliqhutik iluani Kiluhikturmi. Atunngaliqhutik, qablunaat pivikhangit hivitujumik atuqattaliqtangit Inuinnainut. Ilangit Inuit aullaaqpakhutik ungahiktumit Ulukhaqtuurmit, Minto Kangiqhua, Iqaluktuuttiaq, ungahiktumillu kivataanit Qikiqtamit himmauhiqhutik haviit, hiqquutit, qarjukhat aallat ihuaqutikhamaat uvanngat Kiluhikturmiut niuvirvik. Ilitquhianit, tahapkuat ajuqhanngittut ilagiiktut niuviqhimalaaqtut kalikurmik, Arnannaak atigi ilitquhiit, taimaattauq ilittuqtauhimajuq nalunanngittuq Qulaaniittuq.
Other entrepreneurs flowed into the area and both a Northern Traders Ltd. and Hudson's Bay Company post were soon operating in the Coronation Gulf. For the first time, western goods became widely available to Inuinnait. Some Inuit would travel a long way from Holman Island, Minto Inlet, Cambridge Bay, and as far east as King William Island to trade for metal knives, guns, ammunition and other valuable items from the Coronation Gulf post.